British parliamentarians on Thursday are set to vote on whether to delay Britain's exit from the European Union, after ruling out a no-deal departure a day earlier.
The government has tabled a motion proposing an extension of the March 29 departure date until June 30 if lawmakers approve the deal negotiated by Prime Minister Theresa May by Wednesday.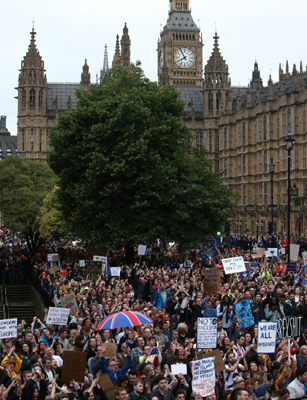 Demonstrators march onto College Green outside The Houses of Parliament at an anti-Brexit protest in central London on June 28, 2016.
EU leaders attempted to rescue the European project and Prime Minister David Cameron sought to calm fears over Britain's vote to leave the bloc as ratings agencies downgraded the country. Britain has been pitched into uncertainty by the June 23 referendum result, with Cameron announcing his resignation, the economy facing a string of shocks and Scotland making a fresh threat to break away. / AFP PHOTO / JUSTIN TALLIS
The deal has already been overwhelmingly rejected twice by lawmakers.
However, May warned that if it was not approved, a longer extension would be needed; meaning Britain would have to take part in European Parliament elections in May.
"I do not think that would be the right outcome, but the House needs to face up to the consequences of the decisions it has taken,'' May said.
The prime minister suffered another humiliating defeat on Wednesday when lawmakers backed a cross-party amendment to a government motion, rejecting a no-deal Brexit at any time.
The government's original motion had only ruled out a no-deal Brexit on March 29 however left the possibility open.
However, after Wednesday's vote an EU spokeswoman said it was not enough to rule out a no-deal Brexit.
"You have to agree to a deal, we have agreed a deal with May and the EU is ready to sign it,'' she said.
Earlier in the day, chief EU negotiator Michel Barnier also said Brussels would need to know what Britain wanted before agreeing to a possible extension.
Source: https://www.vanguardngr.com/2019/03/british-lawmakers-set-to-vote-on-brexit-delay/